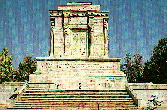 Persian Language Tutorial
Now in EuroFarsi
Cyrus the Great Suite

(composed and performed by Shahriar Bourbour)
* Picture: Tomb of Ferdowsi, 10th century Persian Poet, in the city of Tus (rhymes with loose), in the Khorassan province, Iran.
Ferdowsi is the author of Shah-nameh the Book of Kings, and is considered the reviver of the Persian language.
* Farsi Shekar Ast, Persian is Sugar, is the title of a book written by contemporary Iranian writer Mr. Mohammad-Ali Jamaal-zaadeh (1891-1997).


Work | Home | Music | Iran Sites | English
© Copyright 2000 Shahriar Bourbour , All Rights Reserved